What you need to know about log cabin chinking in Canada
If you are a log home owner, you probably know the importance of insulation against changing weather conditions. There are always some spaces left in log buildings. Let's show you how to deal with these gaps between logs and create a tight seal.
You should be familiar with log cabin chinking Canada and what is needed in our Canadian climate. The new synthetic chinking has really replaced old mortar for 99% of log cabin chinking.
Log Jam Chinking Canada- The chink that holds tough year after year even in our Canadian winters. Its superior elasticity means that it moves with your logs without cracking. Log Jam chink seals your log cabin from vermin, pollen, dust, rain, and wind alike. Explore the chinking calculator below to determine the quantities required.
Chinking Calculator
&
More Info
Conceal's 7 colors blend in with the most popular stains used on log and wood homes, and its light texture simulates the natural roughness of wood.
**5 gallon pails are a special order.
Sealant Calculator
&
More Info
The definition or meaning of log chinking is the use of a special material in-between the log joints. Synthetic chinking is a flexible product and dominates the industry. It has almost completely taken over from mortar that used to be used for chinking log cabins. Damage caused by moisture and weather is often the biggest challenge for log homeowners.
The primary purpose of chinking for log homes is to keep everything we don't want inside on the outside. It will keep away insects, moisture, wind, and insects. This fits perfectly in the gaps between logs and creates a seal against external factors.
It comes in 5 gallon pails or in 30oz tubes depending on your application. The new synthetic chinking is often called triple stretch chinking as it stretches almost three times it's original joint size.
Bulk loading guns are great for applying caulking or chinking from a 5-gal. pail. These guns slide directly onto the Albion Follow Plates or can be screwed on to the older style follow plates. Quality construction means smooth, consistent beads each time and no plunger blow-out. Teflon®-coated (option) for easier cleaning and long-term storage.
Available in traditional manual drive and Milwaukee's cordless electric M18 with Albion conversion kit.
View More Info
Albion® slip-on follow plate makes loading the bulk loading guns easier. No threading makes for easy on and off Threaded rod makes removing the follow plate easy. Rubber gasket at outside rim works with both straight-sided and tapered pails.
View More Info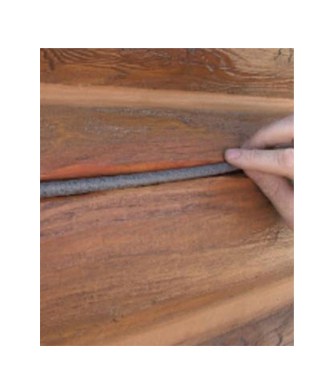 Backer Rod is a bond breaker used to make sure that your caulking makes a 2 point connection (to the top and bottom of the check). This is very important to allow the caulking to stretch. If you don't use Backer Rod, it makes a 3 point connection and creates an anchor point where the caulking will tear when the logs move. It also prevents you from using too much caulking or chink and keeps your costs way down
View More Info
What material is chinking made of?
The procedure for making log home chinking Canada was different for every region, depending upon the availability of different ingredients. Historically, traditional chinking used to be made with clay, silt, ash, dirt, sand, and lime. That mixture did not serve the primary purpose well, and the seals used to pull away from the log joints.
Today, chinking is made of special acrylic elastic compounds as a major component. Many other special ingredients and adhesives are added to offer an extended lifetime and improved adherence. This type of chinking is also called elastomeric, and unlike cement mortar, it does not chip. Three are three types depending upon the use of different ingredients:
-Homemade
-Cement
-Synthetic
The last chinking type is the most famous and widely used for the construction of log homes. The use of new products has extended the life expectancy and reduced the repair costs.
How much does chinking cost?
The benefits of log cabin chinking are obvious and many people will tackle this job themselves. Costs range from about $3 to $5 per linear foot for labor. As an example a 1″ joint usually runs around $1.50 in supplies or so per foot. The cost and the amount of chinking material may vary depending upon several different factors including log size, profile and more.
Example: Let's look at chinking a log cabin that is 1200 square feet (40'x30′ and 10 logs high, no gables). A 1″ chink joint would run about $2000 in log chinking supplies and about $4000-$7000 for a professionals labor. The annual maintenance is virtually nothing, if it needs any repair in certain locations it is typically very inexpensive and easy.
Chinking near me. Log chinking Home Depot?
We are often asked where you can get log home chinking? Log chinking is not available at Home Depot or any of the box stores. Chinking is a specialty product and not meant to be explained to people by employees who have no understanding of a log home and the intricacies to watch for. Log Chinking is not carried by Home Depot, or Rona or Lowes. We can and so service all of Canada with over 100 locations with FREE shipping including but not limited to:
British Columbia (BC)
Includes:
Kelowna, Kamloops, Cranbrook, Prince George, Vancouver Island, greater Vancouver, Abbotsford, Thompson-Okanagan, Kootenay, Cariboo and more…
Alberta
Includes:
Calgary, Edmonton, Red Deer, Lethbridge, Medicine Hat, Canmore, Grande Prairie, Fort McMurray, Banff, Jasper and more…
Saskatchewan
Includes:
Regina, Saskatoon, Moose Jam, Swift Current, Prince Albert, La Ronge and more…
Manitoba
Includes:
Brandon, Winnipeg, Steinbach, Dauphin, Thompson, Swan River and more…
Ontario
Includes:
North Bay, Parry Sound, Ottawa, Peterborough, GTA, Huntsville, London, Muskoka Region, Kawartha Lakes and more…
Northern Ontario
Includes:
Kenora, Dryden, Thunder Bay, Sault St. Marie, Fort Frances and more…
Quebec
Includes:
Montreal, Chicoutimi, Quebec City and more..
Newfoundland
Includes:
St. John's, Paradise more…
New Brunswick
Includes:
Moncton and more…
Nova Scotia
Includes:
Halifax and more…
PEI
Includes:
NWT
Includes:
Whitehorse, Dawson City, Watson Lake and more…
Yukon
Includes:
Yellowknife, Inuvik, Hay River, Fort Simpson, Norman Wells and more…
How long does chinking last?
Apart from the pricing, knowing about its lifespan is also important. The average lifespan of chinking in log cabins depends upon your efforts. If installed correctly and with minimal maintenance to replace any tears, it can last for almost 20 to 40 years. Annual maintenance and the right application of the chinking material matter the most when it comes to how long does chinking last.
The duration may vary depending upon the weather conditions too. In regions with extreme weather conditions, synthetic chinking is seen to last easily for 15 to 20 years.
Benefits of chinking log homes
The benefits of chinking your log cabin can make a world of difference. There are several benefits for the interior and exterior of log cabins and log buildings. Here are two major benefits of chinking log homes Canada:
Comfortable curved handles
Use to create proper concave joint profile & ensure good adhesion to substrates
Precision ground for optimum flexibility for perfectly finished joints
No plastic components for easy solvent clean-up
Premium grade stainless steel, ground and tapered for optimum flex
Rounded tips for standard applications, yet easy to modify for unique applications
Spatula tip widths from 3/8" to 1-1/2"
Aesthetic Benefits of Chinking a Log Home
Professional and appropriate chink can increase the aesthetic appeal of your property. Chink serves the same purpose for log homes as mortar for the brick building. The clear separation of logs with chinking makes the exterior even more clear and attractive. As the application and maintenance of chinking are reasonable, you don't need to invest a lot in the exteriors.
Functional Benefits of Chinking a Log Cabin
Gaps and spacing between log joints are inevitable. There is no way to get perfect logs for a log home, but you can overcome the imperfection with chinking. Without filling the gaps, your home is vulnerable to air leaks, insects, moisture, snow, rainwater, and other insects.
The airtight seal by the synthetic material prevents external factors from affecting the interior. The material can last for 20 to 40 years, so you can have peace of mind after a one-time investment.
Tools required for chinking
Log chinking supplies are readily available for the DIYer. If you don't want to pay for the services of a professional, you can certainly apply by yourself. The application process is straightforward, and the required tools for chinking are also easily available. Here are some necessary log chinking tools that you need for the chinking application to the log homes:
–Chinking guns for tubes or bulk loading chinking gun for pails
–Backer rod is necessary for proper adhesion.
–Spatulas to smoothen the chinking after application
We use Albion bulk loading guns and follow plates. They are considered the best in the world for log cabin chinking Canada.
Gather the required tools , install the backer rod in the joints and load the chinking gun. It's a good idea to select the right nozzle for the chink joint you want to see. Slide the chinking gun onto the follow plate and pull up on the handle, the chink will flow into the gun. If you are using tubes, you can use the two standard size caulking guns. For larger joints, the ease of application of the bulk loading gun with interchangeable nozzles is very nice.
Most of the manufacturers recommend the specific thickness, so make sure to read the guidelines before starting the chinking process. Be very careful of manufacturers that are recommending only 1/4″ thick for joints above 1/2″. Once the chinking cures, this is far too thin and with so little material failure is common. Also be very careful when using anything other than water based stain. Certain stains have non drying oils that cause caulking or sealants to lose the adhesion to the wood. If you use any of our stains, they are all compatible so you do not need to worry. If you are using a different brand, make sure it is water based.
Once you have started applying chinking, you can use a foam brush for smooth application or giving it a little texture. Ideally, you should chink and caulk as the last step so you don't need to sand out any water runs. Pay special attention to the runs and spills for a cleaner exterior. Timely cleanup of spills is recommended, as it will be harder to take off later.